Now you can take one Steam Closed Beta for Wild Buster for this weekend here!!
Wild Buster: Heroes of Titan is a gritty Sci-Fi MMORPG with fast Hack'n'Slash combat. By joining either the human Guardians or the mutant Abandon factions, players level up over a dozen heroes, each with different skills to allow for unique play styles to master PvE (solo or coop) and PvP. While featuring fast-paced action, Wild Buster: Heroes of Titan has a full set of MMO-Feature. Adding more action, videogame legends Duke Nukem and Serious Sam will be added during Early Access as playable heroes and stir up some dust.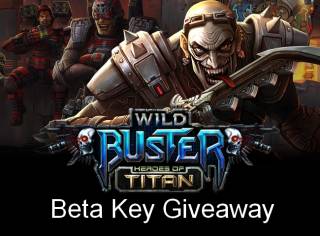 What does the Closed key of Wild Buster: Heroes of Titan include?
The Alpha key grants access to the Closed test, which is held from Friday, 10th of November 2pm CET through Monday, 13th of November 10am CET.
The keys do not grant access to the game after this period of testing.
Follow the instructions to redeem your code.
Step 1.
Never miss a giveaway by following us on Facebook, Google+ and Twitter.
Step 2.
Complete the captcha, then add your email to the field above (beside the "Get Your Key" button). You can only sign up once for this giveaway. If it's the first time you use our system please check your email to validate it and add again the same mail in the field above.
● Launch the Steam client software and log into your Steam account.
● Click the Games Menu.
● Choose Activate a Product on Steam...
● Follow the onscreen instructions to complete the process
Tags: Closed Beta, Steam Closed Beta Giveaway, Steam Game, Wild Buster