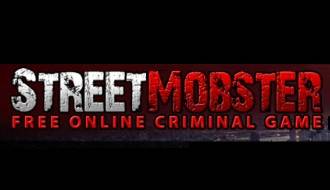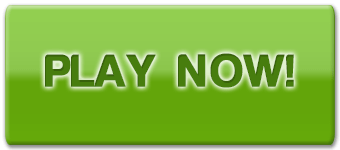 Street Mobster score:
Street Mobster screenshots: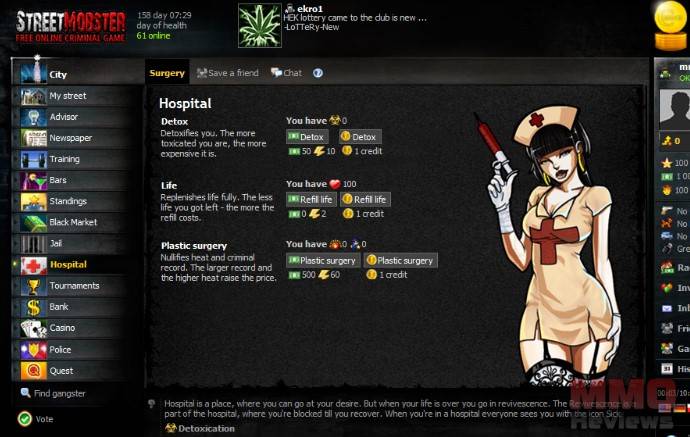 Street Mobster
( Play more Free MMO Browser-based games,Free MMOs games )
Street Mobster review:
Developed by XS Software for internet browsers.
SYNOPSIS
Street Mobster is a mafia/tycoon browser-based MMO game. With its unique "gangsta" graphical style, combined with original pixel-art graphics, the player enters into the unique atmosphere of the criminal underworld. Starting from a lonely poor street thug, the player can evolve and develop their own underground network.
You have to develop your own economy in order to become a millionaire. When you have millions, you can build factories, and thus you can produce anything you need - cars, weapons, or breed dogs. You can be a bar owner or even a pimp. And if you want, you can just speculate on the market and control the prices - buy low, sell high.
When you are tough enough, you will be able to take over the others' streets and beat your enemies. But be careful - cops are everywhere and you can end up in jail. Enter a world where you can be whatever you want - you can catch gangsters if you are a cop, you can climb up in the criminal world or be a wealthy businessman and even own a casino with real games.
Forget about text play - you can perform all the actions as you see them in the streets. Cop, gangster or a wealthy businessman - it is all up to you. You can spend your time in the street or have drinks in the bars owned by other players.
GAME FEATURES
- 38 different gun models
- 23 fighting dog breeds
- 40 rides to choose from
- 26 special items
- 12 quests
- Possibility to play anywhere, anytime, directly through your browser, with nothing to download
- Vast amount of quality graphics
- Vast solo and team play opportunities
DAILY RANKINGS
Play in one of the normal worlds of your country and if you are good enough, you will win virtual cash every day! Every morning the growth for the previous day of each player is determined and if you are in the top1000 of your world, you earn virtual cash in your account, which could become real money. Every 3 months the best players from each country qualify for the Final worldwide event and have the chance to become the best and also to win cash.
SYSTEM REQUIREMENTS
Internet connection.
Website: Street Mobster
Street Mobster game