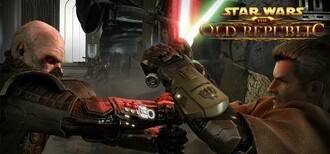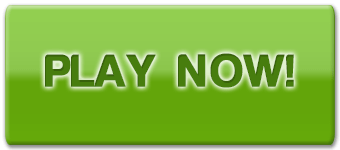 Star Wars: The Old Republic score:
Star Wars: The Old Republic screenshots: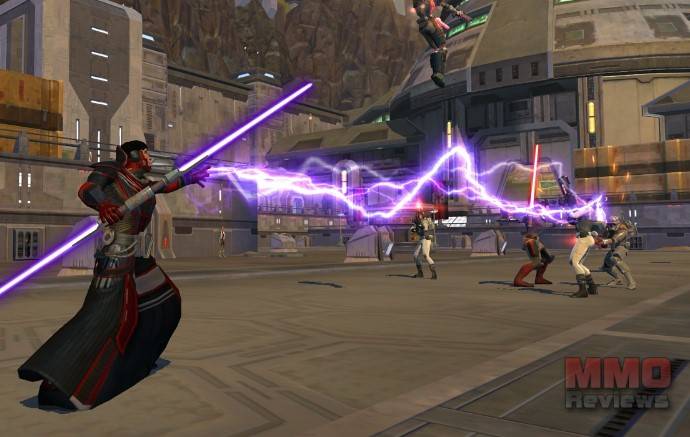 Star Wars: The Old Republic
( Play more Free MMORPGs,Free MMOs games )
Star Wars: The Old Republic review:
DEVELOPER
Bioware
PLATFORM
Windows
SYNOPSIS
Star Wars: The Old Republic is a MMORPG with a free to play option which allows thousands players to play their own story-driven Star Wars saga. It represents a new approach to online entertainment, featuring immersive storytelling, dynamic combat, and groundbreaking companion characters.
Players can play as a Jedi, a Sith, a Bounty Hunter or as one of many others Star Wars iconic roles in an age over three-thousand years before the classic films, three hundred years after the events of Star Wars: Knights of the Old Republic.
RELATIONSHIP WITH THE MOVIES
Star Wars: The Old Republic takes place more than 3,500 years before the rise of Darth Vader. The most powerful Sith Empire in history has emerged from deep space to attack the Republic and its legendary Jedi guardians. After decades of war, a tenuous truce has been established between the Sith Empire and the Republic, but events occurring in the game are leading the galaxy back to an all-out war.
STORY BACKGROUND
The Galactic Republic stood for generations as a bastion of peace in a galaxy of warring star systems. Protected by its stalwart Jedi guardians, the Republic held the greatest hope for the progress of civilization and galactic unity.
Deep in unknown space, however, a mighty Sith Empire was forged, led by dark Sith Lords who dreamt of galactic domination and vengeance against their ancient Jedi enemies. After centuries of preparation, the time came for the Sith to make their return.
With a massive fleet and an awe-inspiring army of fearless troops, the Sith Emperor launched a surprise assault, quickly capturing dozens of worlds in the Outer Rim, and sparking a war unlike any other in the galaxy's history.
From the frozen wastes of Ilum to the desert plains of Dathomir, violent battles killed untold millions. Despite its avowed neutrality, surface structures on the water-covered world of Manaan were completely destroyed, forcing the Selkath to retreat to their ocean underworld. Other star systems fared worse—some destroyed, others left uninhabitable. The carnage concluded with the Sith Empire sacking the Republic's capital planet of Coruscant and forcing the Republic Senate into the controversial Treaty of Coruscant.
In the years since the treaty, fear and uncertainty have gripped the galaxy, enabling the Sith Emperor to pursue his own mysterious purposes while the Republic has made efforts to rebuild its infrastructure and adjust military priorities to the new galactic landscape.
Now, tensions between the Republic and the Empire are running high, and a series of border skirmishes and proxy wars have broken out, even on planets as historically peaceful as Alderaan. The uneasy truce established by the Treaty of Coruscant is quickly tearing apart at the seams, and a return to all-out war has begun in all but official terms.
A new generation of heroes, both light and dark, emerges to face the difficulties of these chaotic times, and fight for the fate of the galaxy in this most desperate age.
FACTIONS AND CLASSES
Members of the two main factions – the Sith Empire and  Galactic Republic – will have different moralities; the project's key focus is to differentiate between the player's faction and morality. Each faction will contain different classes, each with a distinct backstory and a branching storyline affected by players' moral choices.
Bounty Hunter
- Bounty Hunters come and go as they wish across the galaxy, some working alone, others in groups. Though not uncommon for them to pursue targets in the core worlds, the majority of any Bounty Hunter's work takes place in the Outer Rim where wary and elusive targets often seek places where they can 'drop off the radar'.
Imperial Agent
- Reconnaissance images of Imperial Agents are rare; between their varied disguises and stealth enhanced battle-gear, they can be hard to spot. If there is anything remarkable about their habits, patterns, and appearances it's that they can change at any time. Many of the tasks set before the Imperial Agent call for a high degree of subversion and infiltration into hostile organizations, so it's a safe bet that if they aren't with their friends, they're probably with their enemies.
Sith Warrior
- Still images of Sith Warriors capture their passion and vigor in war. Bold lightsaber tactics and surprising bursts of Force power force their foes to stay on the defensive until they are weakened and summarily destroyed. Though their saber tactics are always aggressive, some Sith Warriors choose to dual-wield or adopt other non-traditional fighting styles to accentuate their combat prowess.
Sith Inquisitor
- The destruction Sith Inquisitors leave in their wake rarely allows for the survival of any recorded images. In the cases where the Inquisitors fury has been caught on holo, however, the daunting presence and the awe-inspiring power at the Inquisitors' disposal present a striking picture. Whether the Inquisitor wields a Lightsaber with lightning-sharp attacks, or just Force Lightning itself, it's always a dazzling display of deadly energy.
Trooper
- Deployed to the hairiest battlefields in the galaxy, Republic Troopers generally travel in small, specialized squads. It is not uncommon, however, to see a Trooper engaging enemies on his or her own. Whether operating solo or in groups, members of the Republic Special Forces have become intimidating opponents to their enemies.
Smuggler
- As smart and stealthy as Smugglers might be, surveillance recording from various spaceports and secured warehouses has captured them in the act. These images highlight their ability to adapt to almost any situation. They're careful and cunning when sneaking into enemy territory, but when caught in the open, whether bluffing or gambling, they appear comfortable staging a courageous stand.
Jedi Knight
- The Jedi Knight's graceful movements are awesome to behold. Freezing a moment in this display captures the deep commitment underlying the Jedi's dazzling abilities. Though a Jedi Knight's life is filled with battle and adventure, the Knight's heart is dedicated to peace and service. An ironic observation to some, but greater wisdom suggests it is the Jedi Knights' humble devotion which makes them so likely to become such famous heroes.
Jedi Consular
- In a more peaceful age, Jedi Consulars may have humbly dedicated their lives to service as keepers of Jedi lore or as ambassadors in service to the Republic—tasks for which Consulars are uniquely qualified. However, as the shadow of the Empire has spread further across the galaxy, Consulars have stepped up to face the darkness on the front lines of battle as often as they've faced it when exploring the mysteries of the Force.
COMPANIONS
Throughout the adventures in the game, players will come face to face with a wide range of interesting characters. Some will join their cause and stand by their side. Companions are far more than just an extra blaster or lightsaber. Each Companion also has their own personality, and will provide you with information or commentary throughout your travels. In additional, Companion's view of the players will evolve as they progress in their story.
WARZONES
Warzones are instanced areas where Imperial and Republic forces battle each other in objective-based PvP combat. Eight players from each side enter the Warzone and then compete to defeat other players and accomplish the mission they've been assigned. To emerge victorious, players will have to work together strategically, leveraging their strengths and exploiting their enemies' weaknesses. At the end of each match, the winning team will be recognized, and individual players on both sides will be rewarded according to their contributions to their respective teams.
CARTEL COINS & MARKET
Cartel Coins are the virtual currency used to purchase items from the Cartel Market. Cartel Coins can be used to purchase in-game items, services, and content to customize your gameplay experience and unlock game access.
Items in the Cartel Market includes: unlocks, authorizations, equipment, cosmetic items, convenience items, consumables, and Cartel Packs containing multiple items packed together and sold at one price.
FREE TO PLAY MODEL
The game has the option to play free all the way to Level 50. There are some gameplay restrictions that limit access to advanced features and new content. Check it out right here: http://www.swtor.com/free/features
SYSTEM REQUIREMENTS
Processor
:
-AMD Athlon 64 X2 Dual-Core 4000+ or better
- Intel Core 2 Duo 2.0GHz or better
Operating System:
- Windows XP Service Pack 3 or later
RAM
- Windows XP: 1.5GB RAM
- Windows Vista and Windows 7: 2GB RAM
Website: Star Wars: The Old Republic
Star Wars: The Old Republic game