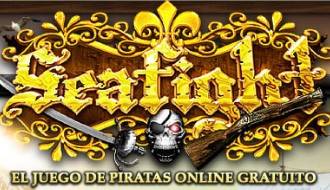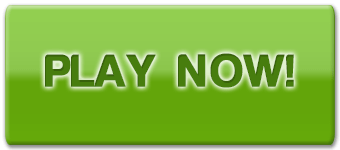 Seafight score:
Seafight screenshots: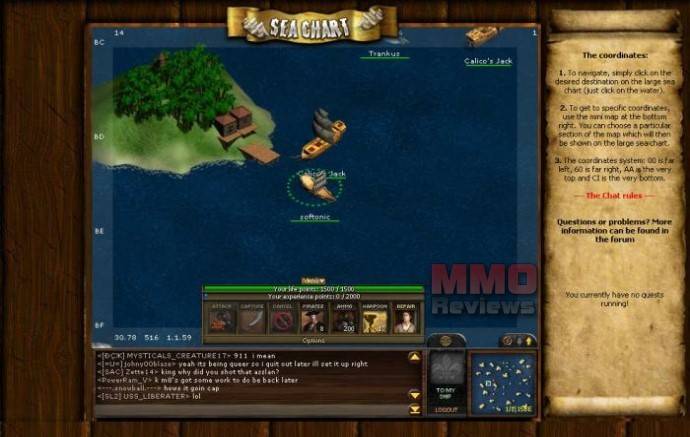 Seafight
( Play more Free MMO Browser-based games,Free MMOs games )
Seafight review:
PLATFORM
Internet browser.
DEVELOPER
Bigpoint
SYNOPSIS
Seafight is a free-to-play browser based MMORPG where players take command of a ship and sail through 50 seas and in four different environments including arctic, tropical and lava. The game offers a wide variety of ships with over 100 different ship designs.
There's a constant creation of new levels packed full with quests and missions, many items, weapons, pirates and assistants, numerous NPCs and millions of real opponents.
GENERAL GAMEPLAY
Seafight concentrates on PvP combat as players' battle in large Ship battles in the open seas for fame, wealth and power. Destroy enemy pirates, battle with huge sea monsters and fight against other players to get experience, equipment and treasures
MAIN FEATURES


Sea battles


Lots of Quests


Earn gold, pearls and other items and trade them


Easy repair and access menus to fix the ship, change weapons, etc.


Multiple languages


Guilds


No download required


Completely free-to-play


SHIPS
The game features different types of ships:



Pinnace

– This ship is perfect for the beginnings of your pirate career.



Sloop

– A small, single-mast ship that's fast and agile, but not especially tough.



Brig

– Ship with a decent-sized crew and enough cannons to set the oceans ablaze.



Caravel

- A tough ship with two masts with room for enough pirates and cannons to really shake things up.



Cog

- Impressive vessel with a huge storage space.



Carrack

- A speedy vessel with tons of space for crew, cannons and ammo.



Corvette

- A mighty ship perfect to assault enemy ships.



Frigate

- This ship will slice through the waves and transport large crews and their cannons into battle in true pirate style.



Galley

- This ship puts functionality ahead of fashion with its battering ram.



Galleon

- This trusty vessel will carry a large crew and their cannons through the worst situations.



Bomb vessel

- This solid vessel has space for many cannons and a brave crew.



Ship-of-the-line

- A top-quality battleship! Sail majestically into battle and defeat all enemies.


CUSTOMIZE YOU SHIP
Players can customize the Ship castles, the weapons, the crew, and the equipment of their ships.
There are four types of ship castles: the forecastle, topcastle, aftcastle and voodoo castle. Each ship castle has three slots that players can upgrade, which can hold different extras which help to the ship's defense.
You can improve the shield castles with reinforced Hulls, rowers, grappling hook, harpoons, amulets or vodoo spells amongst others.
GUILD ISLANDS
Once players have advanced to a high enough level, they can join or create a guild, and then they can conquer special islands, that they can use as their base.
Players have to defend their islands with towers. There are defensive, normal and offensive towers. The defensive towers have more hit points but they cause the least damage to the opponent, Offensive towers have less hit points than a defensive/normal tower but they cause the most damage to the opponents, and the Normal towers which are a mixture of offensive and defensive towers.
SYSTEM REQUIREMENTS


Web browser.


Internet connection.


Java.


Website: Seafight
Seafight game