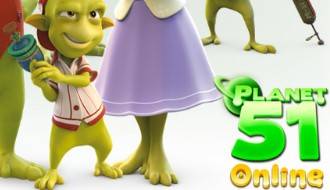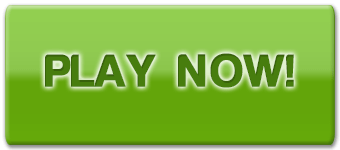 Planet 51 online score:
Planet 51 online screenshots: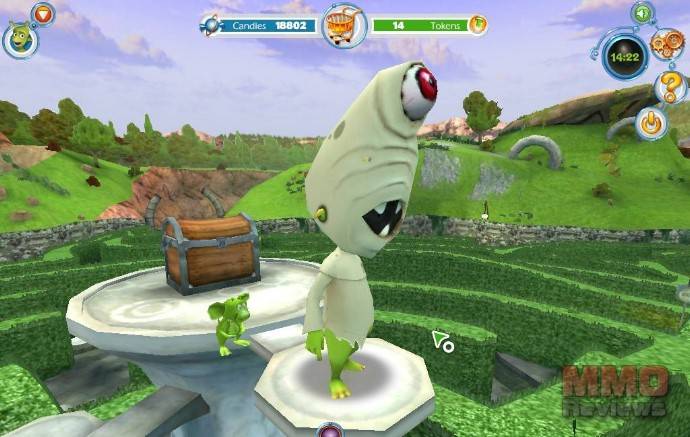 Planet 51 online
( Play more Free MMORPGs,Free MMOs games )
Planet 51 online review:
Developed by Ilion Animation Studios for Windows.
SYNOPSIS
P51 Online is a free to play Massively Multiplayer Online (MMO) game based on the animation picture "Planet 51". It's an officially licensed product. It allows users to land on Planet 51, exploring it and interacting via the internet in a virtual world populated by other fans of the film.
There's loads to do at Planet 51 Online! For a start, there are hundreds of friends that you can interact with. You'll also be given dozens of challenges and missions, you'll be able to explore and discover areas and elements of Planet 51 not seen in the film, play gripping video games, personalise your avatar with endless combinations of facial details, clothes and accessories, and even take your favourite pet along with you on this wonderful adventure.
CONTROLS
In Planet 51 Online you play using your PC's keyboard and mouse, using the keys "w" to move forward, "a" to turn left, "s" to move backwards and "d" to turn right. You can move the camera using the mouse.
GOAL
Having fun is the goal of the game! You'll be able to undertake different tasks offered by characters you find in the park, play fun minigames, collect all kinds of items and keep amazing pets, explore secret places and many more things. You'll also be accompanied by friends all over the world. The game never ends, there are always new things to do in Planet 51. We will frequently add more missions, games and game zones so the fun never ends.
TOKENS
In Planet 51 Online, you can get a huge amount of virtual items. You can use Tokens to buy clothes for your character, get help to complete missions and generally make your experience on Planet 51 Online much more fun! You can make your purchases using the two types of currency found in Planet 51 Online: Candies and Tokens. You can see your Tokens and Candies in the top part of the main game screen.
Candies
You'll receive Candies as rewards for completing the missions given to you by the inhabitants of Planet 51. Or even just for being the best participant in a minigame. You'll never have to use real money in order to get Candies.
Tokens
There are certain special items that can only be obtained with Tokens, the other currency of the game, which will require you to use real money. For these, you'll have to choose the payment method that want to use and simply follow the straightforward purchase process. In order to get the virtual items, go to the in-game shop by clicking on the shopping cart icon which is located at the top of the main game screen.

SYSTEM REQUIREMENTS
Windows XP, Vista or Windows 7
CPU Pentium IV 1.0 GHz or equivalent.
512 MB of RAM.
5500 MB of free space on the hard disk.
Hardware compatible with Shader model 2.0 and DirectX 9.0.
Video Memory: 128 MB.
NVidia: Series 6000 or higher.
ATI: Radeon 9550 or higher.
SiS, Intel and S3 cards may not be compatible.
Internet connection.
Website: Planet 51 online
Planet 51 online game