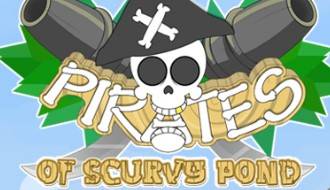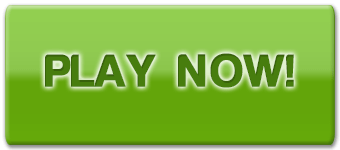 Pirates of Scurvy Pond score:
Pirates of Scurvy Pond screenshots: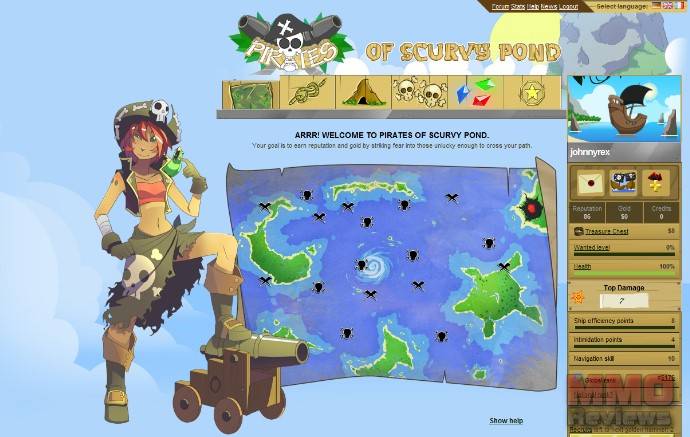 Pirates of Scurvy Pond
( Play more Free MMO Browser-based games,Free MMOs games )
Pirates of Scurvy Pond review:
Developed by Stillfront AB for internet browsers.
SYNOPSIS
Pirates of Scurvy Pond is a free to play, browser-based, MMO where player creates a pirate ship that roams the sea's of the Caribbean in the quest for gold. With in-game credits, the user can further customize it's avatar with new ornamentations and flags, access a premium account, buy character boosts and use the game for longer periods of time.
KEY FEATURES
- Pick your favorite pirate ship and customize it to look the part and fit your needs.
- Battle against more than 50 opponents through 10 levels and earn fame and gold.
- Strike terror into other pirates through action packed PVP battles.
- Build a pirate fleet with your friends and engage in fleet battles against a common enemy.
GAMEPLAY
Choose a captain to battle against. Consider your opponent's top damage versus your top damage. Your top damage is determined by Ship efficiency and Navigation skill. Ship efficiency weigh heavier than Navigation skill. 10 Navigation skill points will give you as much effect as 1 Ship efficiency point.
Your top damage may decrease when you lose health by fighting. The less health you have, the less probability you will have to reach your top damage. In your pirate cove you can repair damaged parts.
Each race will also give you Wanted level, which is an indicator of how likely you are to be caught by the colonialists. As long as you are under 50% there is no risk of getting caught, anything over that you are taking a risk.
PREMIUM ACCOUNT FEATURES
Lose wanted level faster
Your wanted level will be reduced twice as fast as normal.
Customized user avatar
You get the possibility to upload your own avatar shown in your user profile
20% off on repair cost
You get a reduced cost when you need to repair you ship's parts
No advertisements
You will not be bothered by banner advertisements.
Paint your parts for free
Instead of paying $50 to paint your parts you can do it for free
Repair all and replace all buttons in Your pirate cove
Repair or replace all your parts with one button click.
Less wanted level in Pirates vs. Pirates
3% wanted level instead of 5% when dueling in PVP.
SYSTEM REQUIREMENTS
Internet connection.
Website: Pirates of Scurvy Pond
Pirates of Scurvy Pond game