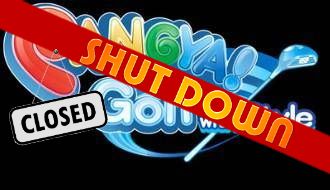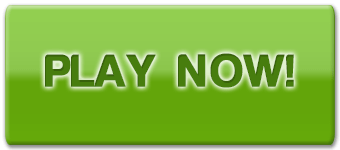 Pangya score:
Pangya screenshots: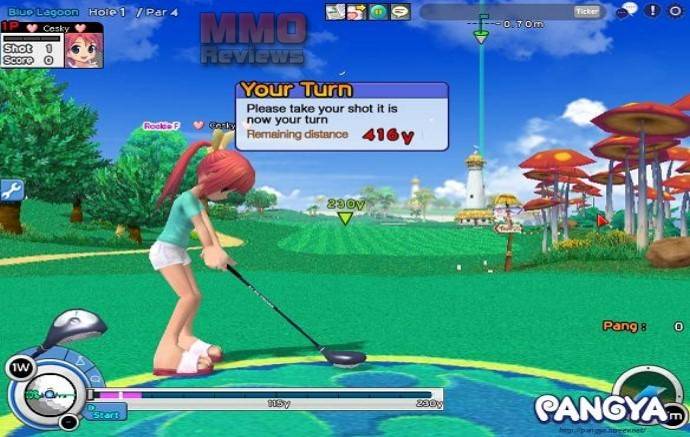 Pangya
( Play more Free MMO sport games,Free MMOs games )
Pangya review:
Developed by Ntreev Soft. for Windows.
SYNOPSIS
Pangya is an online multiplayer casual golf simulation game. The full game is free to download, although certain special items for the game (such as clothes for characters, new equipment, and decorations) can only be purchased with real money. However, all characters are purchasable without real money, and certain measures have been taken to minimize or effectively reduce the differences between money users and non-money users. The game awards players with Pang, a currency that can be used to upgrade a character, or items to gain the upper hand during a course.
GAMEPLAY
The gameplay is designed similar to most other golf games. The power and accuracy of a shot are determined by a meter located at the bottom of the screen, using the "three-click method": one click to activate the meter's bar, one click to set power, and one click to set accuracy. Clicking is either done by moving the mouse pointer over the bar and clicking, or simply pressing the space bar.
CHARACTERS
The playable characters of the game. As of PangYa season 4, there are nine.


Scout/Nuri - A young boy, who was invited by Pipin to PangYa Island after she noticed his love for the game of golf.


Hana - A young girl, who was invited by Quma to PangYa Island after she noticed her love for the game of golf.


Uncle Bob/Azer - An ex-cop, invited by Lola to PangYa Island. He is only a beginner, but brags as though he's been playing the game for years, and often gets himself into trouble.


Cecilia - The captain of PangYa Island's naval battleship, Silvia.


Max - A professional tennis player from Britain who ended up on PangYa Island due to an airplane accident. He joins the PangYa tournament after hearing that the captain of the navy would be entering in the hopes of realizing his dream of joining the military.


Kooh - A pirate and the captain of the Lunar Tomb ship. She is trying to find her father, who went missing after the Battle of the Demon King.


Arin - The first female in a long line of excellent magicians on PangYa Island. She practices PangYa all the time in the hopes that she can meet Max, and play a round of PangYa against him.


Kaz - A descendant of the Demon King. He lost his memory due to the trauma of losing a woman who sacrificed her life for his. Its unclear whether she was a sibling of his or a lover.


Lucia - An idol singer. She enters the PangYa tournament in order to prove that music is not the only talent she has.


Cien - A character that is only found in PangYa portable(PSP). She can be accessed after finishing a certain mission. She can also transform into a dragon.


GAME MODES
There are several game modes of PangYa, which are Stroke Play, Team Match Play, Tournament Mode, Team Tournament Mode, Family Mode, Pang Battle Mode and Approach Shot Mode.
CLUBS
A player will start the game with the default golf club and as player progresses, they are given the option to purchase new clubs, either using Pang or Cookies.
ECONOMY
The currency of
PangYa
is Pang. Pang is normally earned by finishing a hole at par or better, pulling off powerful shots, and making difficult chip-ins. Pang can be used at the Shop to buy equipment or items. Pang can also be used to upgrade equipment such as golf clubs, or the characters themselves, boosting their stats.
SYSTEM REQUIREMENTS
Celeron 500 MHz or higher, 128 MB of RAM, DirectX 8.1
Website: Pangya
Pangya game