Webzen
's adrenaline-pumping 3D Action RPG
Continent of the Ninth Seal (C9)
will receive a
brand new class
. Starting tomorrow,
July 24, 2013
(Global Server Time), C9 players will be able to play as
Demonisher
, the newest advanced class for the Shaman. In order to celebrate this addition as well as the game's first anniversary, the publisher will host several
special events
and a
giveaway
.
The
Demonisher
, the fifth advancement within the Shaman class, uses a mystical orb as her primary weapon to launch powerful offensive strikes, while evading attacks from her enemies. Besides her long-range magical attacks and incredible surges of strength, she can also transform into another being and inflict explosive damage on her opponents. This transformation increases the character's speeds while strengthening some of her skills. Demonishers also assist their allies in battle by enfeebling their enemies.
In addition, there will be a huge celebration in-game tomorrow. During an
in-game drop event
, a massive online competition between servers, players will battle monsters that drop free items and collect special tickets for additional rewards, including gamer hardware. Moreover, new players joining the game will receive two special support chests for playing and be given the opportunity to immeadiately start with their newly-created character at level 20.
And to top this all off, Webzen has partnered with
MMOReviews.com
to offer you an
exclusive free item giveaway
. The promotional event run from 
July 24
to
August 17, 2013
(Global Server Time).
Each code can be redeemed for a
free Promotional Chest granting the following items
:
-   10 Resurrection Scrolls
-   5x Extreme Training (100%) 1 hour
-   1 Town Travel Level 1 (3 days)
-   White Beach Wear Gear (7 days)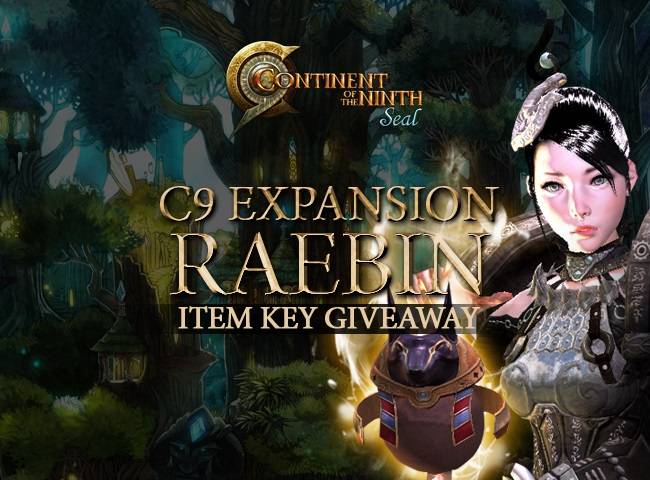 To receive and reedem your code, follow theses steps
:
Step 1. Follow us on Facebook:
Step 2. Add your email in the field below, check your email account and follow the instructions.
Step 3. Register an account, log in to 
Continent of the Ninth Seal – C9
, and download the game client.
Step 4. Choose the server and create a new character. (Skip this step if you're already a C9 player.)
Step 5. Visit
Continent of the Ninth Seal – C9 
and enter the key you've received. Click "redeem" and begin your adventure!
Continent of the Ninth Seal (C9) will take you to the fantasy world of Glenheim, in which players fight against evil forces and gigantic monsters. Utilizing extremely powerful melee, ranged and magical skills, you will fight swarms of evil, demonic forces using FPS style controls in a huge, dungeon-based 3D world.