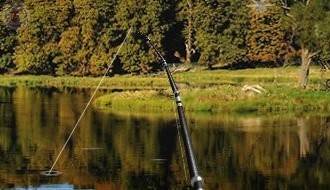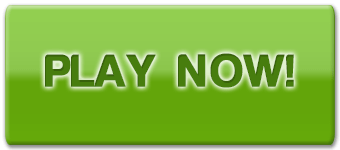 Let's Fish score:
Let's Fish screenshots: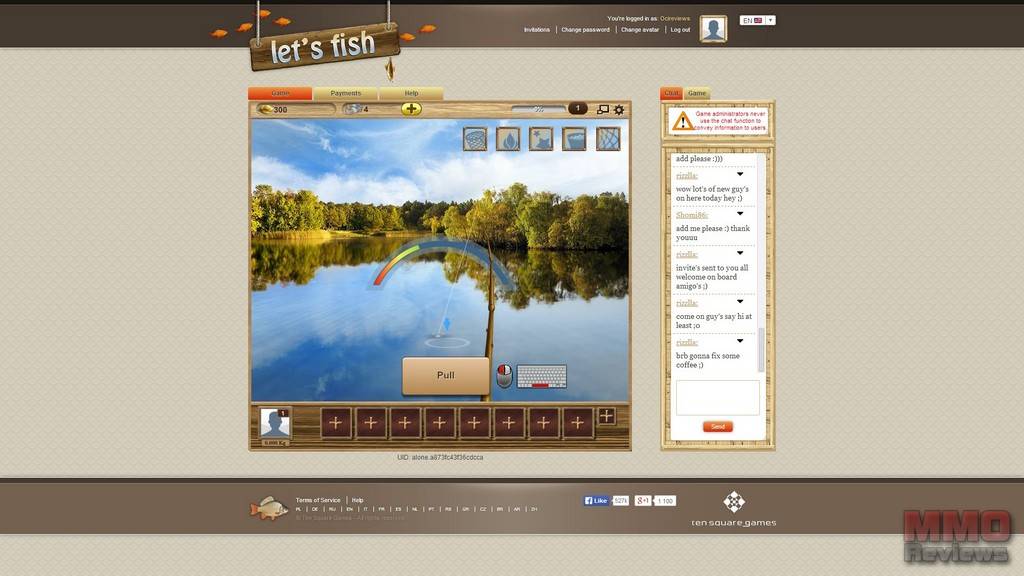 Let's Fish
( Play more Free MMO Browser-based games,Free MMOs,Free social MMO games games )
Let's Fish review:
GAME TYPE
: F2P Fishing MMO
PLATFORMS
: Web Browser
DEVELOPERS
: Ten Square Games
GAME SYNOPSIS
In Let's Fish players are able to put together their own fishing tackle and head off around the globe fishing in various locations to try and catch rare and exciting fish in this free to play casual browser-based fishing MMO.
MAIN FEATURES


Fun and casual fishing MMO


Level up to gain access to new fishing tackle that you can purchase


Head to different fishery locations around the world


Try to unlock various achievements by catching fish


Friendly tournaments and competitions with other players


Global chat window allows you to talk to the community


Play through your web browser


Quick signup or join with Facebook


Completely free to play


PLAYING THE GAME
Players will find the game very easy to load up and fish for a few minutes or a few hours with the casual, family friendly gameplay either playing alone and trying to expand your library of caught fish or against other players in friendly competition. The game is completely free to play and all items can be unlocked simply through gameplay, however there is a premium currency option for those players that wish to try and get ahead a little quicker.
Using various items of fishing gear players must travel to different fisheries to catch fish, players will cast their line into the water and once they get a bite must pull and then we'll in the fish by quickly pressing the left mouse button, an arrow on a gauge will keep trying to drop into the red and by clicking a mouse you will drag it into the green, should the arrow reach the red before you pull the line into the capture circle then the fish will get away.
YOUR FISHING GEAR
The tackle that you have equipped when trying to catch a fish will determine both your success and the type of fish that you are able to catch. With a variety of hooks, lines, rods and bait different combinations will allow you to catch different weights of fish, a lightweight rod and line will only allow you to catch small fish wearers a heavier line and sturdy rod will allow you to capture more challenging larger fish. Similarly depending on your choice of bait and hook, using everything from bread to maggots, you will only catch certain types of fish that those particular types of bait appeal to.
As there are 100s of different possible combinations depending on your choice of gear, and 100s of different fish to choose from, each with their own specific criteria of gear needed to catch them, the main challenge in the game is working out which combinations work for which fish.
Players are also able to gain access to more advanced fishing equipment such as sea fishing gear and even purchasing a boat, or bonus items such as nets that will allow you to spend premium currency to get boosts that aid you in landing your fish.
LEVELLING UP
by successfully catching fish you will gain XP and over time level up, by doing so you gain access to new items and gear that you can purchase from the tackle shop to then go on to try and catch more elusive and rare types of fish. Gating the gear in this way means there is always something to work towards and new personal achievements to unlock.
Players will also gain talent points over time that they can put into one of three different skill trees to unlock new features and make them more skilled in a specific area of fishing, such as sea fishing, which is a more advanced form of fishing that players unlock later on.
COMPETITIVE GAMEPLAY
friendly competition is encouraged between the community were players can enter competitions to try and catch the biggest fish all the most fish in a specific timeframe, successful winners will game prizes and recognition. However, with the global chat channel and the ability to share your achievements players are also encouraged to promote friendly community spirit with each other and help each other out.
SYSTEM REQUIREMENTS
Internet Browser
Website: Let's Fish
Let's Fish game