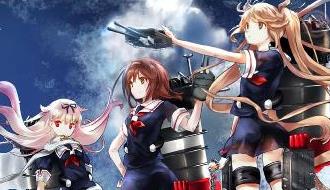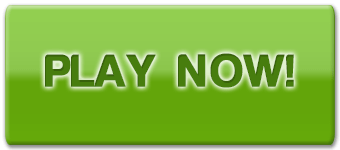 KanColle Online score:
KanColle Online screenshots: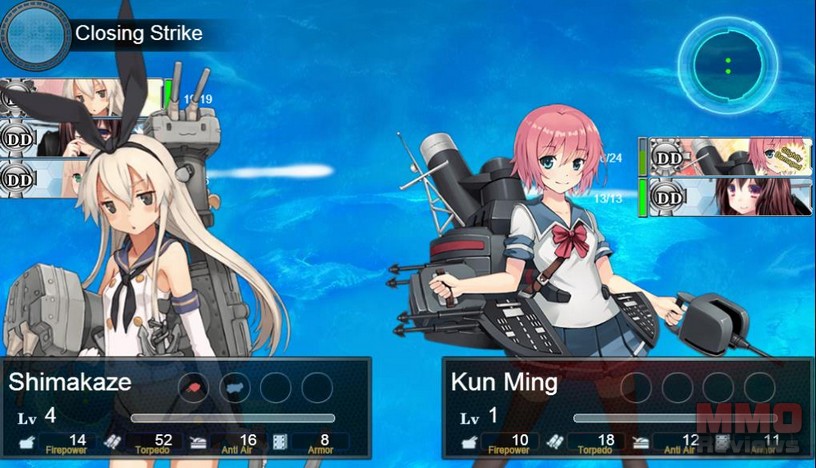 KanColle Online
( Play more Free MMO Browser-based games,Free MMORPGs,Free MMOs games )
KanColle Online review:
GAME TYPE
: Free to play MMO RPG Strategy
PLATFORMS
: Internet Browser
DEVELOPERS
: Kadokawa Games
GAME SYNOPSIS
In KanColle (Kantai Collection) Online players assume the role of powerful naval Admirals in the fight against the Abyssal Fleet in a future version of Earth, to combat this growing threat the spirits of retired Japanese naval warships from World War 2 have assumed the forms of cute anime girls; Fleet Girls, armed to the teeth with guns, torpedoes and seaplanes. The game is accessible through web browser and consists of strategic team building, levelling up characters and gear, and competing in battles against the AI and real world players for ranks and rewards.
MAIN FEATURES
- 100+ Fleet Girl cards to find, create and advance
- Collect gear to make your fleet stronger
- Fight against AI across multiple regions
- Battle friendly players in PVP for competitive ranking
- Manage your team and keep them healthy for battle
- Browser based game
- Completely free to play
THE GAME
The game primarily revolves around building up a team of Fleet Girls, each of which is represented by its own unique card that can be advanced, equipped with new gear, disenchanted to recover resources, and organized into a powerful fleet to fight in naval based battles. The game lacks hands on combat, with battles being almost 100% automated, however organizing teams and managing Fleet Girls are the players' main duties.
Whilst free to play mainly the game has a premium currency options where players can purchase upgrades for their home naval base for additional bonuses and boosts, as well as being able to buy items that can "marry" their Fleet Girls and increase their level cap from 99 to 150.
AVAILABLE SHIPS
There are various types of ship that can be acquired, each having a unique card that has unique stats and abilities, with over one hundred Fleet Girls each has their own particular personality that resembles the type of real world WW2 ship they are based off; older ships are personified by older female characters, and younger inexperienced ships as young girls. The personalities are explored somewhat through the game, but each character has a type of ship/class that they represent:
Heavy Cruiser – these ships are able to deal a substantial amount of damage to enemies, are extremely fuel efficient and are a balanced type class
Amphibious Warfare Ship – Not useful during combat, this anti-submarine ship can give bonuses to Expedition battles when equipped with landing crafts
Light Aircraft Carrier – These have much better fuel usage than the standard carriers, they can damage submarines, but have lighter armor and are unable to attack at night
Torpedo Cruiser – Using the Remodel feature players can upgrade to this light cruise which can allow pre-emptive torpedo strikes
CRAFTING
One of the key tasks in the game is to collect resources which can be used for various things, fuel and ammo in particular are used to resupply your ships before they go back into battle, but one of the main uses is in crafting. Players are able to craft their own Fleet Girls, depending on the ship they wish to create will determine how many and what types of resources are spent.
Players can upgrade their stats and even Remodel their ship to upgrade it into more superior versions, as well as equipping them with different types of armor and weapons to improve their stats. Any Fleet Girls that have been acquired through battles and quests, but that the player doesn't wish to use, can be dismantled to give extra resources.
SORTIE
The Sortie function enables players to jump into different types of battles, from the standard PVE campaign battles where they battle the Abyssal Fleet and can unlock new maps by completing battles successfully. Expedition allows players to use their Fleets (players have max of four fleets of 6 girls) to gather resources in an automated fashion, players do not even need to be online to get a slow tick of resources that can be used. PVP is available through friendly Practice PVP mode, here players can put their teams of Fleet Girls up against each other, earning ranks and in turn able to get rewards for being top ranked players.
SYSTEM REQUIREMENTS
Internet Browser
Website: KanColle Online
KanColle Online game