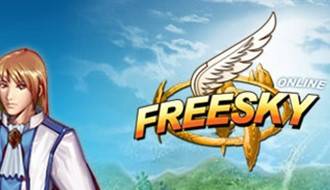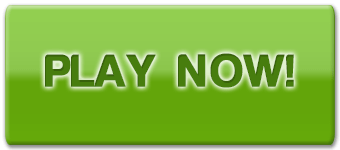 FreeSky Online score:
FreeSky Online screenshots: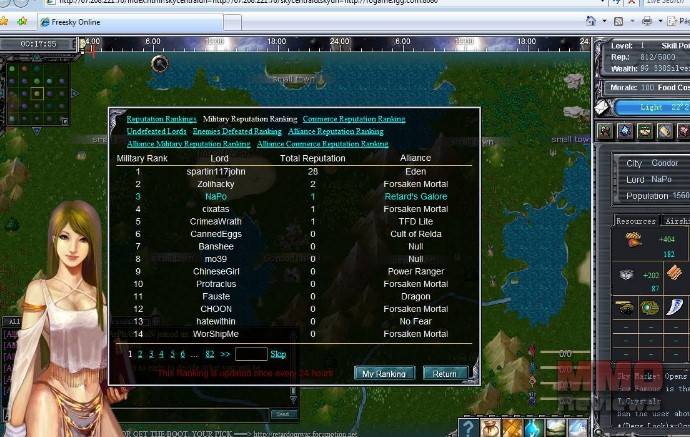 FreeSky Online
( Play more Free MMO Browser-based games,Free MMO management games,Free MMOs games )
FreeSky Online review:
Developed by IGG for internet browsers.
SYNOPSIS
Freesky Online is a fantastic browser based Role Playing Game that is based on battles in the sky between fierce and powerful airships. In Freesky Online, you can either create an invincible military empire or become a wealthy commercial empire. The distinct RPG elements and the perfect SLG strategies will bring you a unique gaming experience.
BACKGROUND
The legend of Erl Continent is very intriguing and mysterious. Although it has been gone for a long time, people still wish to understand the lost civilization. It is common knowledge that the New Continent originated from Erl Continent's demise. Discover the world for yourself, you will find that this journey is full of challenges and adventures.
FEATURES
1. You don't need to be online at every moment clicking your mouse or tapping your keyboard to operate the game; In  FreeSky Online , when you build resource fields, your city's resources will accumulate according to the normal passage oftime whether you are online or not.Construction, hardware production and skill studies do not occur simultaneously. The system will alert you of any task completion. All tasks will be carried out automatically, according to the schedule arranged by the system, even if you close the game.
2. Build your own imposing castle; The real fun in "FreeSky Online" comes from building your own castle. Once you've built a castle, you can build processing factories to produce hardware and increase your resources by constructing source-fields outside your city. You can study various sciences and technologies to make production more efficient and employ heroes to manage your city. You can also establish new cities to expand your empire.
3. Experience a grand battle in the sky; In "FreeSky Online", you can use the hardware you produce to assemble a range of airships, for example, a mighty imperial flagship, attackers, cruisers and defensive warships. Enjoy the thrill of battle as you take on NPC fleets with your own powerful forces and order them to occupy cities and win your battles!
4. Alliance miracle and Alliance war; The Alliance plays an important part in "FreeSky Online" and adds to the overall enjoyment of the game. Buy or sell goods in the Alliance market, command fleets to attack or defend others within your alliance and occupy the NPC zone together. Eventually, you will be able to build your own Alliance miracle. An Alliance miracle is not only a great honor for your Alliance but it also improves resources and production for all Alliance members!
NATIONS
-
Divine Hall
; is the heart of the empire, and the protector of world peace. Divine Hall is also the guardian of the empire and accepts the King's order only. The 4 Lords who were titled after the war now control the Divine Hall. Each of the 4 Lords has his own HolyCrystalCity with abundant resource which was granted by the empire.
-
The Cursed Temple
; tose who live in the CursedTemple are great warriors who fight for free to protect the rights of the poor. For this reason, the Cursed Temple is also called a rebel alliance. The members in it do a lot of important communication in the different nations.
-
Deity Church;
The Deity Church was named so because the people believe that the Gods can bring brightness and happiness for everyone on Earth. However, the church was betrayed by its alliance, and so now the people in it are collecting lots of wealth to get their revenge.
-
Shadow Church
; The existence of the Shadow Church has always been controversial because the people come from a different power. Especially the people from the Deity Church think that the Shadow Church shouldn't exist in this world. The Shadow  Church does not control people's thoughts. The church is praised by the poor people because it provides them with food and shelter. It even built a library for them. However, the people from the Deity Church say that the Shadow Church has cheated them and they plan to eventually fight them.
GAMEPLAY
Gameplay revolves around collecting and using resources to build an empire. Players can choose to build their empire through military might or by commercial success. Players get to choose a server, a user name and one of four factions, (Light, Devil, Holy and Shadow)
There are five resources, food, sandstone, metal, wood and crystals. Food is to provide energy to your deployed troops, sandstone is used to build and upgrade buildings and metal, wood and crystals are used to build weapon parts. Each player starts with one town. Over time, players can increase their "dominance" level, which allows them to build new towns.
SKY POINTS
Sky points are similar to a paid subscription, but can also be obtained through surveys found on IGG's homepage. They allow players to reduce the amount of time actions take in the game and allow them to obtain blueprints and other items through the treasure box.
SYSTEM REQUIREMENTS
Internet connection and Java.
Website: FreeSky Online
FreeSky Online game