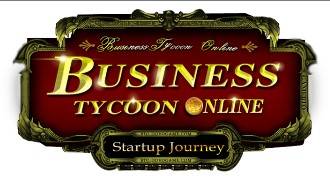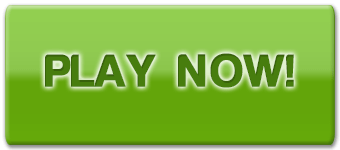 Business Tycoon Online score:
Business Tycoon Online screenshots: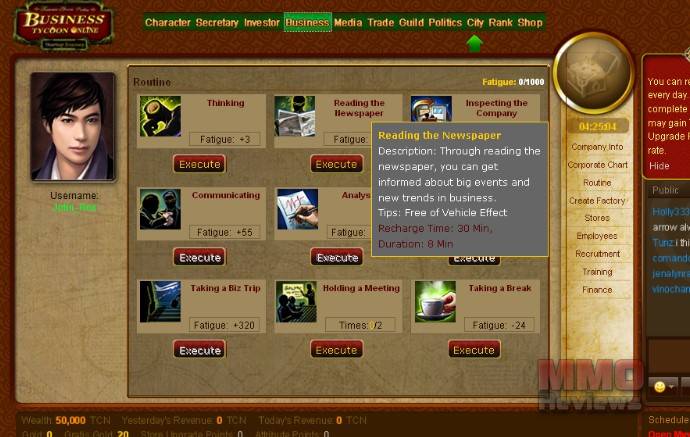 Business Tycoon Online
( Play more Free MMO Browser-based games,Free MMO management games,Free MMOs games )
Business Tycoon Online review:
Developed by Dovo game for internet browsers.
SYNOPSIS
Business Tycoon Online is an online, browser-based business simulation game. Players start from scratch and take the role of an entrepreneur that is just breaking through into the tough business world of Liberty City. Through hard work and dedication, players can expand their business and raise their social status as they try to become one of the socialites of Liberty City. In Liberty City, your business dreams can become a reality as you establish your own company and build a powerful business empire.
From the very beginning of creating your company, you will face constant challenges. As a business tycoon you have the ability to open more than 100 different kinds of stores, their success or failure is in your hands. In addition to opening your stores, you will also need to recruit employees and arrange their training. Every day, different kinds of meetings are waiting for you to attend. Your performance will affect directors' impressions of you. In order to become a well-connected socialite of Liberty City and expand your network, you will need to widen your social circles and interact with the other entrepreneurs around you. When faced with fierce market competition, you should be ready for any and all challenges that will come your way.
CHARACTER
Attribute points

You can obtain attribute points not only by daily quests, but also by routine work, Help Bell , 16Hours Activity and MIB negotiation. There are 3 kinds of attribute points for character.
- Strategy
to add employees' attributes of execution and management;
- Wisdom
to add speed of producing goods and gaining material.
- Leadership
to increase company's revenue.
Social status

There are nine classes in social status: Proletariat, Populace, Citizen, Upper class, Nobility, Gentlefolk, Count, Marquis and Duke.
VEHICLES
Vehicles can reduce the time of your routine work. Their attributes are relatively limited; part of routine work has nothing to do with them, such as holding a meeting, thinking, and reading newspaper. You can travel by your own vehicles. (Different tourist destinations require different vehicles.)
ROUTINE
As the company's chairman, you should grasp the time if you always want to keep ahead of your rivals. In your spare time, you can pay more attention to it and do more communication with your staff. Here, you have a lot of choices; you can gain some profits from each work. Unexpected results will be got if you do more study on it. You can acquire different rewards from carrying out routine work each time. The rewards have a lot of forms, which depends on your luck.
MIB
MIB is a system of investment group. After succeeding in negotiating with MIB, you can gain rewards in investment at random. When  MIB reaches you, your secretary will give you a message in Notifications which can be kept for 2 hours. In this 2 hours, you can send an employee to  negotiate with MIB, and then gain rewards of gold or store upgrade points etc. If you don't accept negotiation with them, they will be suspicious of your sincerity and find other tycoons.
MEDIA SYSTEM
The Media System is a congregation of all kinds of media agencies, through which the players can publish comments to promote their companies or to attack their competitors. There are 5 types of media: newspaper, radio, magazine, TV and internet. Each media company has its own influence. The more commonly-used a media company is, the more influential it is.
INDUSTRIES
Entertainment Industry

Build an entertainment empire starting with Billiard Halls, Arcades, Jazz clubs and more. Casinos and Horse Racing courses await entertainment tycoons. The Entertainment industry enjoys a 5% decreased tax burden.
Sales Industry
Retail can be a harsh world but the payoffs are big. Open markets, bookshops, gift shops and eventually malls! Sales Industry insiders enjoy a +5% production and raw material supply rate.
Catering Industry
If running hotels or resorts is your dream, the catering industry is your ticket. Start with small shops that offer snacks or tobacco and enjoy a -50% employee salary cost bonus.
Service Industry
Manage service related stores such as barbershops, massage parlors, and tattoo shops. The service sector has a +10% increased success rate of recruiting experienced employees.
SYSTEM REQUIREMENTS
Internet connection.
Website: Business Tycoon Online
Business Tycoon Online game